I have been invited to a party :-D and the general gist is to talk to you about what I have been up to.
Now when I saw the invitation I immediately jumped up and down and accepted. Then I regretted it, what on earth was I going to waffle about that would be worthy of such a gathering of bloggers?
Today, however the powers that be (who ever they be) shone down on me and handed me something to write about.
At work toady we got a little bundle of joy in the post, something that lifted my spirits and starting me jiggling on my way to today's victory dance. What was it you ask? An envelope stuffed with fan mail.....yes you heard me right, myself and my colleague received an stack of 35 letters of thanks and appreciation from the students of a local school that came to visit the library. I was their princess in one, queen in another, told I should be proud of myself in the next. They asked me what my favourite book was and told me they would like it very much if I could visit them at school.
Yes I nearly cried
(ok read here teared up like a baby)
and my heart leapt, it is one of the best feelings in the world to be told you did a good job, that your enthusiasm has been infectious and that you are wanted.
My day just kept getting better with a great weight loss at weigh in tonight...victory dance well in swing
(not a pretty sight but I didn't care).
Today I feel on top of the world, today I have my mojo back.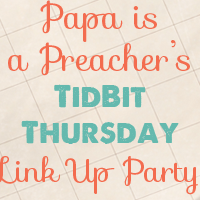 Thank you to Larissa for organising and inviting me to this link up party, now I am off to see who else is at the party. I am dying to know what everyone has worn ;-)